Bangkok's Developing Projects: The Place to Be!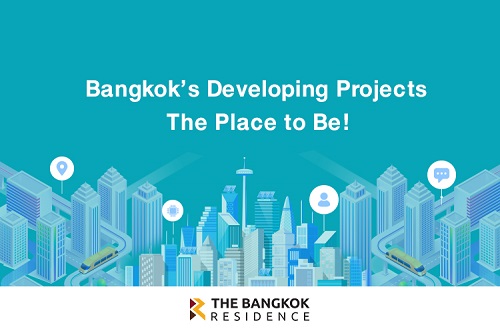 What do people think of when they think of Bangkok? Some might think about the famous temples, shopping areas, luxury hotels, food, and people.

When talking about residential properties or properties for investment, location is one of the first things people have to consider, since it's one of the most important factors in the decision-making process. Projects have to be place strategically, to increase its value in price, as well as bring value to those planning on buying/living there. A location's value depends on many factors, such as its surrounding areas, upcoming projects and developments, communities, infrastructure and transportation, potential for natural disasters, and so on.

Bangkok's traffic is probably something tourists, expats, and locals think about and remember about the city. Currently there several railway systems in Bangkok: The BTS Sky train, MRT Underground railway, and Airport Rail Link system connecting all over the city. There are anticipated expansions currently being worked on, with new tracks and lines being added on. Public transportation has been an important part of people's lifestyles in Bangkok, which can determine how well people live in the city. It can contribute a lot to people's way of living. In the past, there were only two main BTS Lines , Sukhumvit (Light Green) and Silom Line (Dark Green), which originally only extended from Mo Chit to Onnut, and National Stadium to Saphan Taksin respectively. Currently, the BTS system operates in 2 lines with a total of 52 stations. The MRT currently has the Blue (Lak Song to Tha Phra via Bang Seu) and Purple (Khlong Bang Phai to Tao Poon) lines, with expansion plans to include Orange, Pink, Yellow and Brown in the future, connecting Bangkok outside of Bangkok too.

Besides the mass transit transport, Thailand has taken numerous projects to strengthen the digital infrastructure, such as the National Digital Economy Master Plan (2016-2020). The government has worked on providing free Wi-Fi hotspots in almost 25,000 villages across the country, creating a national broadband network, connecting to almost 75,000 villages, schools, and hospitals. Bangkok still remains the central tech hubs of the city, with the main economic activities. With technological advances happening, science, health care, and education is improving, and becoming impressive, even by foreign standards. International education, starting or relocating foreign businesses, and even retirement is very popular, enhancing Bangkok's growth and charms.

Current and future construction plans will continue to increase the value of land in Bangkok, expanding the city and developing regions which used to be less popular in the nearby future, as commercial buildings, community malls, hotels, education buildings, and condominiums are built and launched every year. Development projects in the city is happening non-stop.